<!- mfunc search_box_body_empty -><!- /mfunc search_box_body_empty ->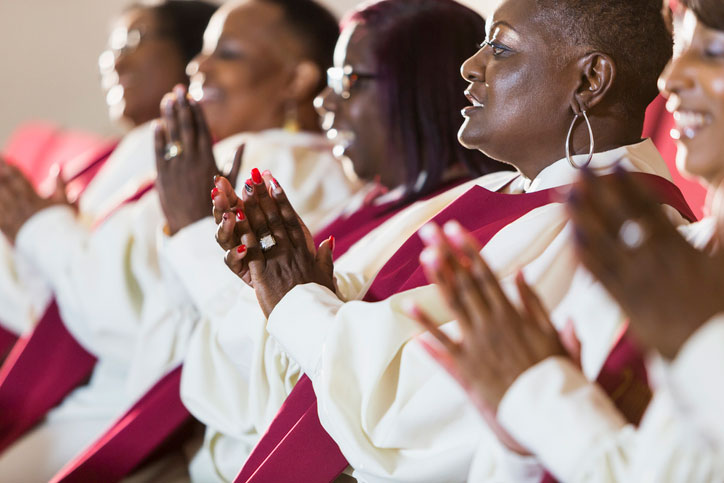 What are the worship arts? The worship arts are the expression of Christian faith through the arts, most commonly the musical arts. Degrees in worship arts combine training in ministry and theology along with musical and performance skills and techniques.
Worship arts, or worship ministry, as these degrees are sometimes called, are some of the oldest forms of expressing Christian devotion and faith. In fact, they pre-date Christianity itself; the Book of Psalms, a staple of comfort and wisdom from the Old Testament, is thought to have been written between 500 to 900 years before the birth of Christ.
Those hymns still express concepts of love and devotion that sing His praises today. But worship arts have also gone high-tech, with digital audio/video recording, advanced lighting systems, and internet streaming that carry hymns and more modern Christian performances around the world.
<!- mfunc feat_school ->
Explore a Christian Ministry Degree – Request More Info Today!
Featured Programs:
Sponsored School(s)
<!- /mfunc feat_school ->
A degree in the worship arts helps you take your own innate musical talent and combine it with a strong knowledge of Scripture and theology to become a leader in praise.
Worship Arts Offer an Education in the Long Tradition of Musical Praise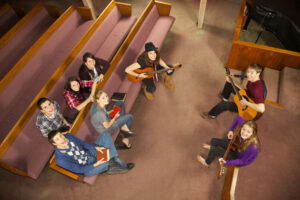 Of course, we know from both Psalms, other Bible stories, and basic human nature that worship and music have been closely woven together for all of Christian history. And that clearly influenced musical development in Western civilization as a whole, with great composers such as Brahms and Bach creating some of their most famous works from the inspiration of the divine.
It is said of Handel that a servant opened the door to the great composer's room and found his master sitting there in tears. He had just finished writing the movement we know today as the Hallelujah Chorus, and said, "I did think I did see all Heaven before me, and the great God Himself."
In the modern church, music has been slowly transforming from a punctuation between sermons in liturgical ceremonies and becoming a worship event in its own right. With that emphasis in the joy and celebration of song, worship ministry has come into its own as a talent and profession. Worship ministers are sought-after to plan and lead musical services; performers, arrangers, and composers are needed to write and perform them.
All of these people can find their way to that calling through worship arts degrees.
A Degree in Worship Arts Covers Both Technical and Theological Skills
Degrees in worship arts teach you how to meld celebration and praise with music and art. Although it's a traditional form of worship, it's not always easy. A formal education has to combine musical skill development, theological reasoning, and pastoral wisdom to prepare you for this ministry.
You will also find degree programs in related areas such as pastoral studies, divinity, or Christian studies that offer concentrations in worship arts.
These degrees are available at every level, and also as certificate programs for individuals who want to add the skills to their existing educational preparation.
Are the Worship Arts Limited Strictly to Christian Music?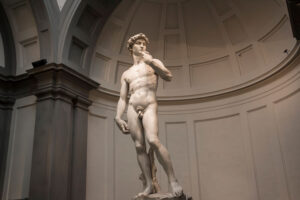 The arts in general have been important in Christian worship for a long time. Think David, The Last Supper, or the ceiling of the Sistine Chapel… Leonardo, Michelangelo, and many other great classical and modern painters, sculptors, and other artists have drawn inspiration and brought glory to God through Christian artworks.
But there are relatively few worship arts degree programs today that really dive into any kinds of art other than music. It may be that the creative effort of paintings and sculpture are more of an individual effort, or that they lack the ceremonial relevance of musical performance.
In any case, you are perfectly free to bring your own brand of artistic celebration of Christ and his message to worship, but if you are aiming for a degree in worship arts, you will probably be sticking to music.
Associate's Degrees in Worship Arts
An associate's degree is a two-year course of study that combines basic liberal arts coursework with dedicated classes in worship arts and ministry as well as general knowledge classes in math, social studies, and communications skills.
An associate's degree provides the basics for participation in worship arts:
It does all that at an affordable price and in a relatively short period of time. But associate's programs aren't always the last stop on the educational path for those called to worship ministry. These degrees are also frequently called transfer degrees, because they may be accepted by four-year schools as fulfillment of the first two years of a bachelor's program.
You will need to verify that your two-year and four-year schools are on the same page and that your associate's credits will be accepted. But if you plan well, you can launch your worship arts career at a lower cost and more quickly by earning this degree first.
Bachelor's Degrees in Worship Arts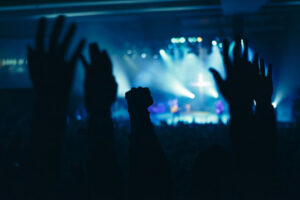 Bachelor's programs in worship arts go broader than their associate's-level counterparts. Here, you are devoting a full four years of study, giving you the time and classes to get strong professional skills in this brand of ministry.
Bachelor's programs also extend beyond the ministry, however, by requiring a set of coursework in general studies subjects such as:
These liberal arts courses work to build your critical-thinking and communication skills. They are a key part of creating well-rounded graduates who aren't just knowledgeable in worship arts, but have solid problem-solving abilities and a set of skills that can benefit them in any role.
Master's Degrees in Worship Arts
Master's programs are an advanced, two-year course of study that really focuses in on the most advanced and important aspects of worship arts in the ministry. Although they are half as long as bachelor's program, they build on top of that training with more complex and detailed courses. They also leave behind all the general studies you have already mastered so that the entire program can be dedicated to your mastery of worship arts.
A master's degree in this field is almost always aimed at leadership. Graduates from these programs, if they have chosen one with the right courses to satisfy denominational requirements, can go on to become ordained ministers. That often leads to roles leading and organizing worship ceremonies in big churches, or through events outside the church.
Getting to that level isn't easy, though. You'll have to demonstrate advanced musical competence, pastoral skills, and organizational competencies. Most worship arts master's programs require a capstone project of some sort that requires you to put together all your skills and knowledge to demonstrate a command of the field.
Doctoral Degrees in Worship Arts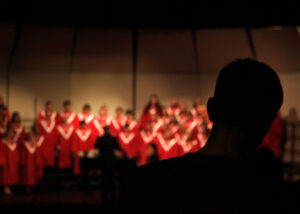 At the doctoral level, worship arts tend to fall into a more general field of worship studies. These degrees often cover all forms of liturgical worship, incorporating music as an important element of services.
But one of the benefits of a 3-year doctoral degree is that it allows you to chart your own academic course. Although there is always some required coursework, classes are small and typically conducted in seminar-style, with small group discussions. Working together with your professors, you will usually set your own focus of study. That outlines the areas you want to research and think about.
That academic research and original thinking will be distilled into a thesis, dissertation, or capstone project that takes half to a third of your total time in the program to develop. It will be a unique expression of your findings and thoughts on the subject, and define your expertise to other theologians or congregations.
Certificates in Worship Arts
If you want to brush up on your worship arts skills but don't need a whole new degree to do so, a certificate program might be just the thing. Certificates offer a kind of focus that allows them to take only a few months to a year to finish, and to cost much less than a degree. They may have only three to four courses, which means there isn't a great breadth or depth in them. But if you already hold a degree in a related field, they are a great way to build your expertise.
Certificates can be found at both the basic and the graduate level of instruction. Certificates with no prior college experience required may be similar to an associate's degree, without the general studies coursework attached. Graduate certificates build on a bachelor's degree in pastoral studies or other Christian degrees.
Curriculum in Worship Arts Degrees Prepare You for Performance and Pastorship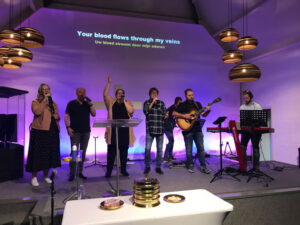 Coursework in worship arts degrees can be very specific. It reflects the many kinds of music and musical services that can be performed in liturgical settings. So, you might find your coursework structured around choral performances, individual voice lessons, or directing and producing major stage shows.
But most worship arts degrees have classes that fall into these general categories:
Worship Arts Leadership - Worship arts is a ministry of leadership. Whether you are performing as basic a function as leading a congregation in a hymn or organizing a major stage performance for live streaming to millions, you need to develop the skills to lead and organize. These classes will prepare you to direct, plan, and conduct musical liturgical services with skill and confidence.
Sound and Recording Production - Worship arts music performances have advanced along with other kinds of sound and stage shows as advanced productions, combining sound, lighting, and recording. The technical skills to produce and manage these performances, as well as recording and streaming them, get plenty of special classes in worship arts programs.
Worship music and Musical Theory - These are arts degrees, and you'll take classes in the musical arts to develop your understanding and appreciation of the technical skills of musical performance. This can include musical theory and songwriting instruction, as well as classes to develop your own individual talents in instrumental or vocal performances.
Pastoral Skills - The goal of worship music is ultimately a pastoral one. Your use of your musical talents and knowledge has to be combined with traditional pastoral ministry, including preaching, counseling, and organizational skills.
Theology - To go along with pastoral skills, basic knowledge of Scripture and church doctrine is a requirement. Courses in Christian history, comparative religions, Biblical hermeneutics, and systematic theology build your basis of faith.
Worship arts degrees at almost all levels have a focus on real-world expertise that means internships or practicum courses are common. Whether it's a placement at a local church as part of their chorus for a semester or a student-led band, you'll probably get some direct experience in performance or leadership.
Worship Arts Degree Concentrations Align Your Studies with Your Calling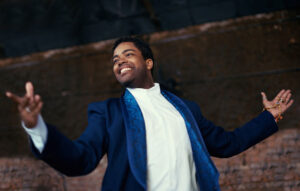 Worship arts degrees, particularly at the bachelor's level, often offer you a chance to specialize. With such a broad range of different areas in the worship arts, it can be useful to narrow down your studies to the specific scope your calling is leading you toward.
You will find such emphasis areas as:
Christian Schools Are the Natural Choice for Worship Arts Degrees
You have plenty of options for degrees that will build your musical talents. Degrees that combine musical artistry with the kind of theological and pastoral studies that tie song and celebration together, though, are only found through Christian colleges.
Like any other kind of institution of higher education, it's important that you get a well-rounded, quality experience that is worth your time and money in a Christian college. One of the easiest ways to ensure this will be the case is to pick a program that has been fully accredited by an organization that has been recognized by either the Council for Higher Education Accreditation (CHEA) or the Department of Education.
The two most common accreditors in this category are the Association of Theological Schools (ATS) and the Association for Biblical Higher Education (ABHE). But accreditation from any similar agency, even secular ones, gives the blessing you need.
Are Online Worship Arts Degrees Available?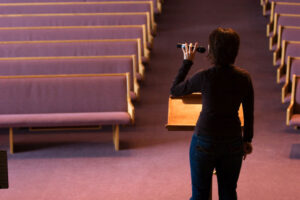 Although making music and developing stagecraft may seem like they are pretty intensively in-person activities, COVID-19 pretty much vaulted all kinds of college educational programs into the 21st century with respect to remote studies. Now, you can find the occasional innovative online degrees and certificates in the worship arts as well.
Most of these programs do require some kind of in-person participation, even if it's just an internship in your own area. But coursework that doesn't take direct interaction can be completed online, freeing up your time for other parts of life. You can shift your coursework around work or personal obligations. And online degrees open up the option of attending programs that are far from home without requiring relocation.
What Callings Does a Degree in Worship Arts Support?
Most graduates with worship arts degrees are headed toward active positions in worship ministry. Where you end up will depend on the level of degree that you earn:
Of course, even at higher levels, all the jobs open to other degrees are also yours to choose from.
With a creative profession like worship arts, however, you're not really limited by the usual range of jobs. If you're called to do so, you can form your own band, create a musical missionary expedition, or open up a new Christian record label. Your inspiration is the only limit you'll find to what you can accomplish with a degree in worship ministry.