<!- mfunc search_box_body_empty -><!- /mfunc search_box_body_empty ->
Any practicing Christian knows the tremendous impact their church's leadership can have on establishing their community's values, not only within their congregation but in the outside world as well. This means that Christian leaders have a responsibility to promote equity and inclusion, creating congregations that build bridges between people and are welcoming to all.
Creating an inclusive church community isn't something you can do by instinct alone; rather, it requires hard work and conscious effort to invest in transformative approaches.
After all, each one of us brings our own perspective to our communities, and with that comes unconscious biases and expectations. Having the training to understand a variety of experiences – in particular those unlike your own – can make a tremendous difference in reaching diverse populations. Further, cultivating a deep understanding of the history of racism and religion can help religious leaders understand how they can be agents of positive change.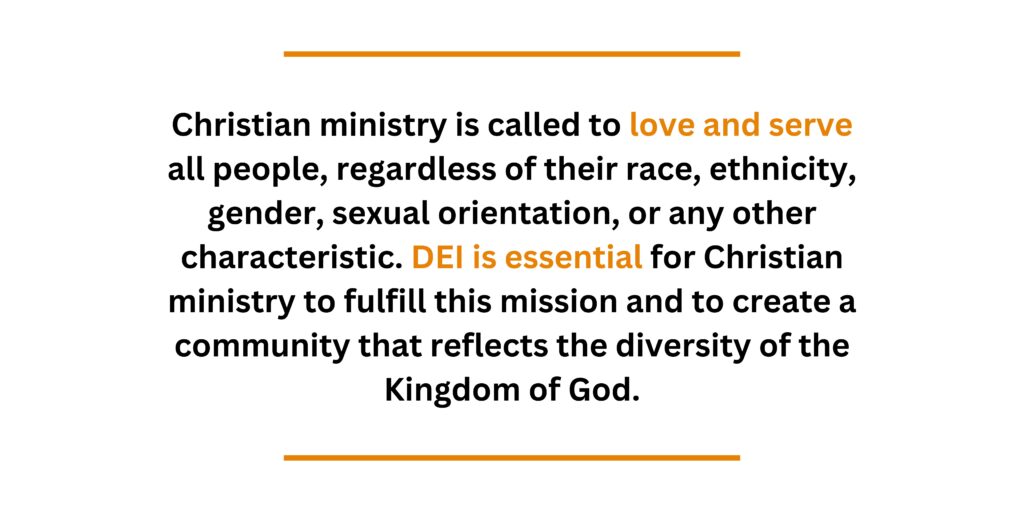 The resources included below are provided to help you enhance your approach to leadership in your church to reflect Christian values of tolerance, inclusion, and reconciliation. Rather than thinking of these as an addendum to your clerical pursuits, you are encouraged to take a more holistic approach that ensures that you lead with compassion and consideration every step of the way.
BIPOC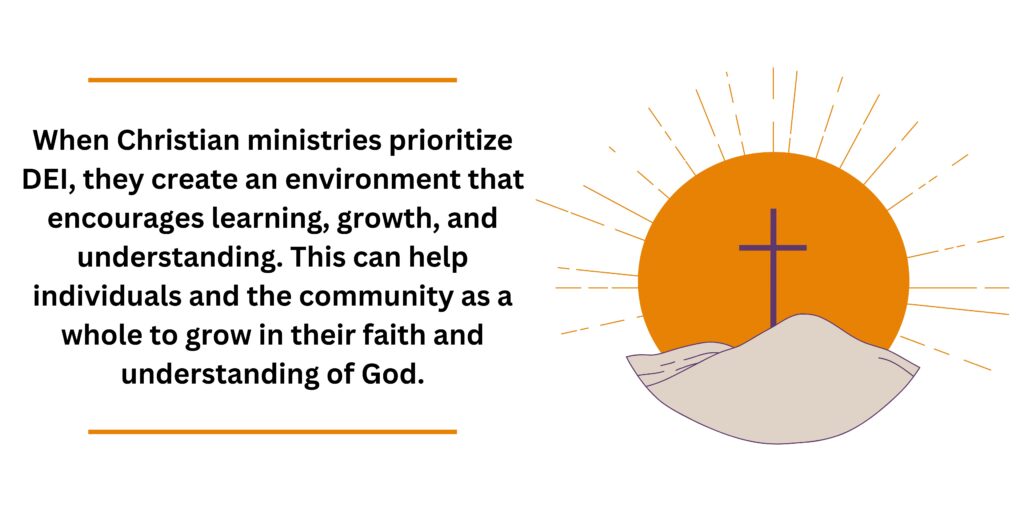 Anti-Racist Resources from Pacifica Synod
This resource compiles the work of participants in the Pacifica Synod Assembly, whose key topics have included confronting racism and white privilege within the church. Their resources include reading lists, videos, discussion prompts, and more.
The Anti-Racism Resource Center by the United Methodist Church
This website compiles resources for ministers and other Christian leaders to raise awareness about issues of racism and become advocates within their communities. Their offerings include PDF readers, podcasts, conferences, and more.
Responding Faithfully: An Initiative by The Center for Racial Reconciliation at Duke Divinity School
This list includes scholarly articles offering historical information and training material for Christian ministers who want to work towards racial justice and inclusion in their churches. Topics include dismantling white supremacy, using faith as a tool of reconciliation, and improving churches to serve more diverse populations.
The Reconciled Church Initiative
This organization brings together Christian leaders to address racism in the Church as a united front. Their offerings include prayer and reconciliation events, education reform tutorials, community outreach programs, advocacy training, and more.
Sacred Conversations to End Racism (SC2ER) from the United Church of Christ
This program offers resources and training for churches and individuals seeking to address and dismantle racism within their communities and the church at large. Their curriculum includes video lectures, reading materials, and in-person workshops.
Those with Disabilities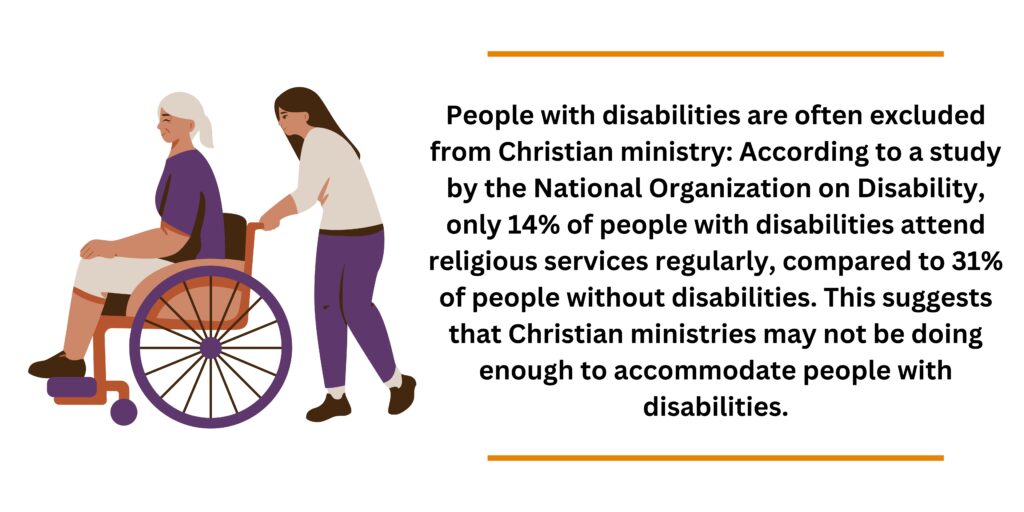 Faithward: Getting Started with Church Accessibility
This guide provides immediately actionable proposals to help religious leaders make their congregations more accessible for those with disabilities, as well as longer-term plans to ensure a holistically accessible approach to running your church. There are also guides for disability awareness raising church sermons.
Inclusive Congregations Guide from RespectAbility
This guide features a variety of DEI resources for religious leaders across denominations, with particular attention to the needs of congregants with disabilities. These include hands-on proposals for making congregations more accessible as well as educational resources for how to plan church programming for congregants at all levels of ability.
Women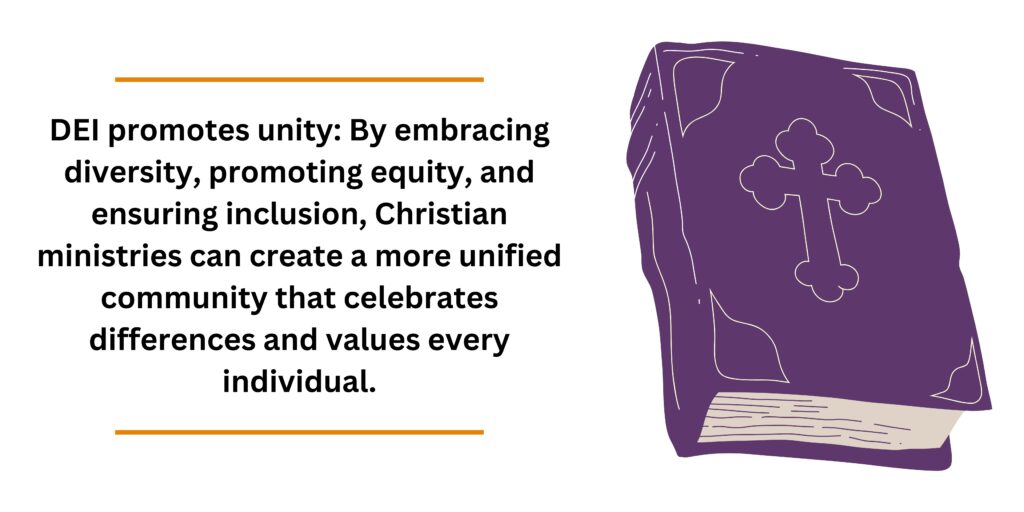 Christians for Biblical Equality International: Ways to Promote the Inclusion of Women in Church Leadership
This guide is intended for church leaders to make their congregations affirmative spaces for women and make efforts within their own organizations to employ and support women. It includes practical proposals and larger frameworks to approach women's issues within a Christian context.
This organization supports women clergy as well as male clergy who are invested in making their congregations more empowering spaces for women. Their resources include multimedia educational materials, advocacy opportunities, personal narratives from women clergy, and more.
Women in Ministry from Fuller University
This initiative of Fuller University is designed to promote women's leadership in the church and raise awareness about issues of sexism and gender-based prejudice. Their website offers educational materials including lectures, articles, and biblical interpretations to promote feminist approaches to Christian leadership and support women clergy.
Young Clergy Women International
This organization provides a network for women clergy under the age of 40 to connect and build a dialogue over their faith, shared profession, and a shared goal of finding new ways to empower women in the church. They offer annual conferences as well as newsletters, occasional periodicals, and more.
LGBTQ+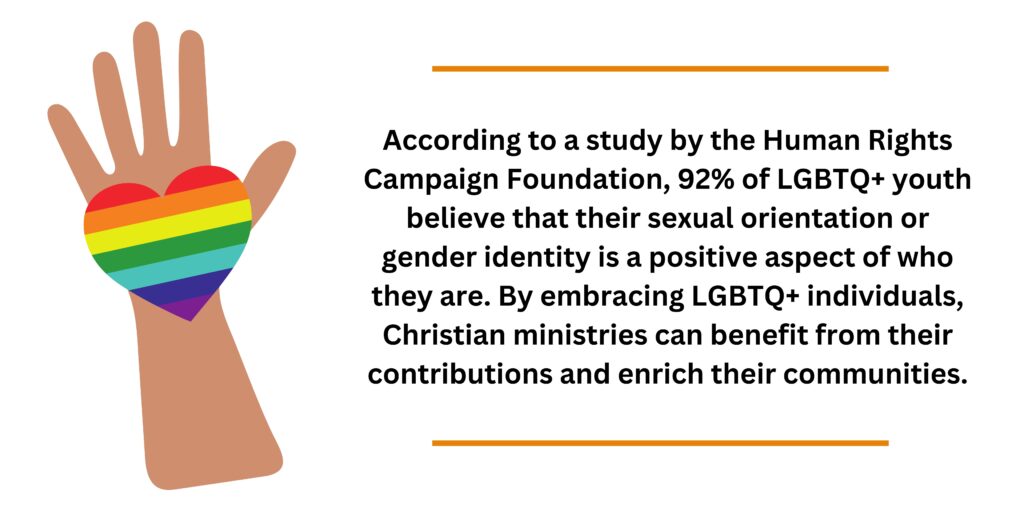 Believe Out Loud is an organization that helps religious leaders become stronger advocates for their LGBT congregants. Their website features educational resources to help root discussions of Christian topics in an LGBTQ-inclusive approach and create a more welcoming community for all.
This Catholic organization has created an index for religious leaders to act for justice and make their communities more inclusive. They offer digital materials and in-person educational events with an emphasis on Catholicism and LGBTQIA issues.
Faith Resources from the Human Rights Campaign (HRC)
This comprehensive index from the Human Rights Campaign provides resources for pastors and ministers of all different denominations of Christianity to provide more supportive environments for LGBTQIA+ church members. Some resources also are designed to empower LGBTQIA+ religious leaders.
Gay Christian Network from GLAAD
This service, sponsored by GLAAD, includes resources to help pastors create a safe and affirming space for LGBTQIA+ people in the church. It also provides a directory of LGBTQIA-affirming churches and opportunities to help Christian leaders connect and build dialogue around LGBTQIA issues.
This organization helps Presbyterian leaders build tolerance and inclusivity for the LGBTQ+ community in their congregations as well as supporting them in society at large. Their extensive catalog of resources features a variety of topics related to the LGBTQIA+ experience, including biblical interpretation, LGBTQIA+ history, marriage, homelessness, HIV/AIDS, trans inclusivity, and more.
This organization uses Biblical scholarship to inform, engage, and reform religious leaders and promote LGBT inclusion in the church. Their resources include a guide for pastors on how to welcome LGBT people in their church, directories of LGBT-affirming churches, and progressive Bible study courses that engage LGBTQ+ issues in a traditional Christian framework.
AAPI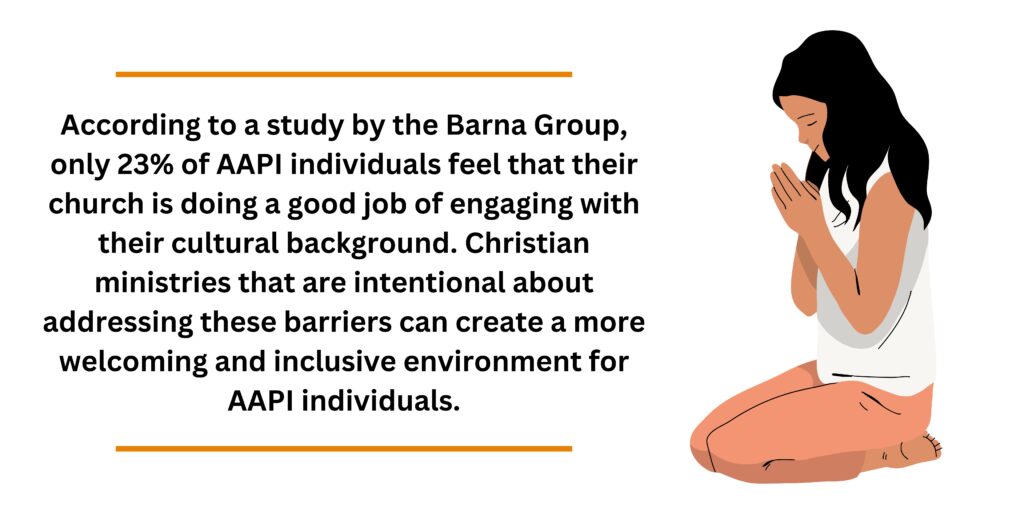 Asian American Christian Collaborative
This organization helps AAPI Christians address issues of racism and injustice within the church and society, bolstering the Asian American Christian community. Their resources include online seminars, articles, and podcasts which are designed to affirm AAPI Christians and educate non-AAPI Christians about creating more inclusive and supportive environments.
Asian American Theological Forum
This is an online publication that publishes theological scholarship on Asian American history, culture, and causes. It is an excellent resource for ministers and pastors to educate themselves on AAPI religious values.
AAPI Heritage Month by the Christian Community Development Association
The CCDA provides a curated list of materials to celebrate AAPI identity and educate clergy about making their churches more inclusive of AAPI spirituality. These resources include participatory workshops; film, literature, and music recommendations; first-person essays on the AAPI experience; and more.
This podcast, which is archived in full online, is devoted to coverage of the Asian American Christian experience. It covers a variety of religious, social, and cultural topics.
LatinX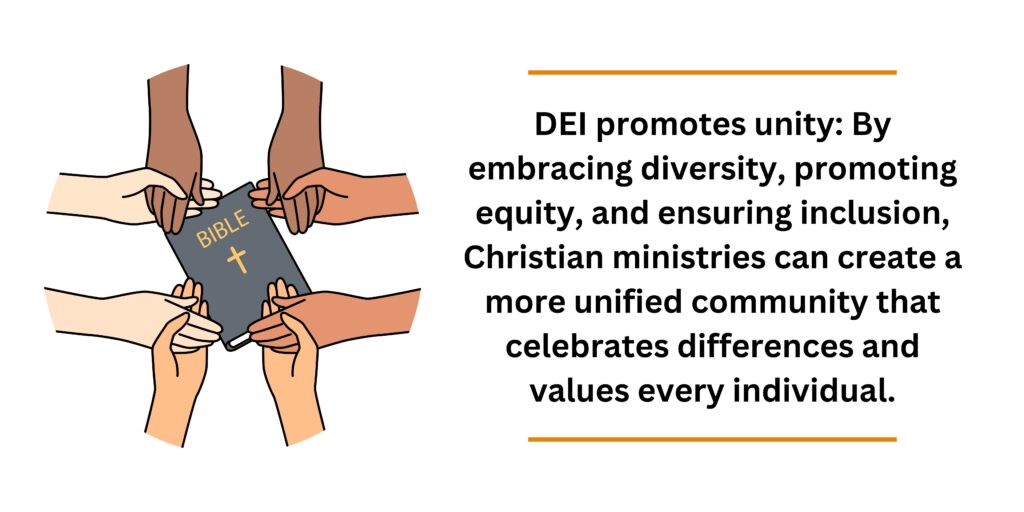 The National Hispanic Christian Leadership Conference (NHCLC)
The NHCLC is the world's largest organization for Hispanic Christians. In addition to hosting numerous events throughout the year, it provides a network of Hispanic Christian leaders to discuss community issues and educate other Christians. They also provide DEI resources to raise awareness in churches.
Latino Leadership Circle (LLC)
The Latino Leadership Circle brings together LatinX Christian leaders to discuss issues related to faith and community-building. Their website features podcast episodes, blogs, and an index of reading materials including books and articles to enrich one's knowledge.
The National Plan for Hispanic/Latino Ministry
NPHLM is an organization devoted to creating more opportunities for LatinX Christian leaders. Their website features educational resources in English and Spanish to raise awareness across communities.
United States Conference of Catholic Bishops: Subcommittee on Hispanic/Latino Affairs
This subcommittee of the US Conference of Catholic Bishops is dedicated to bolstering LatinX Christian leaders in the United States and connecting them to Hispanic Christian communities around the world. Their initiatives include educational campaigns, skill building workshops, and more.
Additional Books on Diversity, Equity, and Inclusion for Christian Leaders
Below is a list of a few top books for religious leaders to learn more about approaching diversity, equity, and inclusion within the church:
The Accessible Church: Making the Church a Welcoming Place for Children with Special Needs and from Traumatic Backgrounds, by Kerri-Ann Hayes (2022)
The Beautiful Community: Unity, Diversity, and the Church at Its Best, by Irwyn L. Ince Jr. (2020)
Color: God's Intention for Diversity, by Carla D. Sunberg and Daniel Gomis (2021)
The Color of Compromise: The Truth about the American Church's Complicity in Racism, by Jemar Tisby (2019)
Disability and the Church: A Vision for Diversity and Inclusion, by Lamar Hardwick (2021)
Every Woman a Theologian: Know What You Believe. Live It Confidently. Communicate It Graciously, by Phylicia Masonheimer (2023)
Called to Reconciliation: How the Church Can Model Justice, Diversity, and Inclusion, by Jonathan C. Augustine (2022)
Transforming: The Bible and the Lives of Transgender Christians, by Austen Hartke (2018)
United: Captured by God's Vision for Diversity, by Trilla J. Newbell (2014)
A War of Loves: The Unexpected Story of a Gay Activist Discovering Jesus, by David Bennett (2018)