<!- mfunc search_box_body_empty -><!- /mfunc search_box_body_empty ->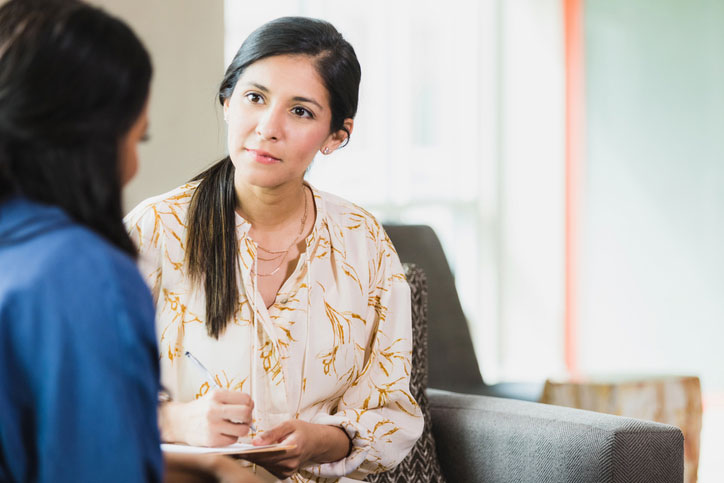 Doing the Lord's work is tremendously rewarding, for reasons any pastor will understand deeply. But it can also be incredibly taxing, as most who have held positions in the clergy will agree. After all, being a Christian leader means taking responsibility for everyone in your community, providing guidance through some of their lowest moments. It can also mean stepping up during moments of communal crisis, serving as a beacon of strength and hope in the face of difficulty.
Because expectations are so high for pastors and other Christian leaders, it can be challenging for those individuals to find the time and space they need to take care of themselves. However, the very pressure of taking on the burdens of so many others can itself become a source of tremendous anxiety and depression.
<!- mfunc feat_school ->
Explore a Christian Ministry Degree – Request More Info Today!
You can see this not only as an investment in your day-to-day wellbeing but in your career longevity as a whole. There should be no shame in seeking support when you are in a position of providing so much support to others. However, many pastors and ministers who wish to provide the most assistance they can to their communities put their own mental health on the back burner, foregrounding the needs of others while neglecting their own. This can have negative consequences in the short term, as personal issues can interfere with your ability to do your job to the fullest, and even more so in the long term, as continuing to work through times of duress can increase feelings of fatigue and even burnout.
Fortunately, in today's world we have become much more aware of the need for mental health care, with an increasing number of services available to help people with a wide range of needs. Indeed, there are numerous Christian mental health organizations that are specifically designed to support followers of Christ who are struggling. Pastors know all too well that faith can be an important part of overcoming hardship, which means that many of these services can help you tap into your beliefs to get through whatever difficulties you might be facing.
This guide provides a list of Christian mental health resources that can specifically help pastors and ministers who are working to improve their well-being and be the best leaders possible. With work and the support of others, you'll be able to lead your congregation with strength, clarity, and renewed devotion to God.
Mental Health Support for Pastors
At one time, Christian leaders were seen as impervious to the types of personal struggles that plague most individuals. As exemplars of the word of God, it has historically been difficult for pastors and ministers to create space to address their own needs. In some cases, pastors have even felt pressure to stifle or suppress their mental health issues, which contemporary psychologists now understand to be deeply harmful to one's well-being in the long run. Fortunately, as our knowledge of mental health has grown, we understand that even those in prominent leadership positions can face tremendous difficulties, which has led to a new discussion of mental health among pastors.
Indeed, pastors and clergy can face all of the same mental health challenges that we all can. These can include issues such as:
In other words, Christian leaders are human, and subject to life's difficulties just like everyone else. This means that when facing difficulty, it is important for them to humbly seek the forms of treatment that they so frequently guide others to find. Looking for help does not make you a bad, weak, or incompetent leader, nor does it need to unfound your place as a religious authority.
Having mental health challenges does not mean one's relationship to God is compromised.
In fact, many who take on the work of healing from difficult experiences find their faith strengthened on the other side. In this way, you can rest assured that looking after yourself isn't selfish, superficial, or unwise. Rather, it is a way of getting closer to your religious values, becoming a better and more honest role model for all who seek your leadership.
Christian Mental Health Organizations
The following is a list of Christian mental health organizations whose work specifically seeks to support religious individuals in need.
Therapy and Counseling Services
If you are dealing with mental health or emotional issues, the most direct support you can find is likely through counseling. Therapy gives you the space to address your needs head-on, creating a setting in which you do not have to act as a leader and instead can ask for support. There are many Christians therapists out there who specifically seek to offer mental health support for pastors.
There are many forms of therapy one can choose from, any of which can be effective means of treatment. These can include in-person individual therapy, remote one-on-one sessions, couples or family therapy, or group therapy sessions with others who share similar needs as you. What's most important is that you find the modality that best suits you and will be sustainable for you in the long term as you take the time to address your concerns.
Below is a list of Christian mental health resources that specifically offer therapy and counseling.
The American Association of Christian Counselors
The AACC is a nationwide network of counselors and therapists who practice Christianity and can provide compassionate, faith-based supportive services to those in need.
This organization is a network of counselors specifically for individuals who seek a Christian perspective as they pursue traditional therapy.
Focus on the Family's Christian Counselors Network
This nonprofit provides an extensive directory of Christian mental health professionals to provide therapy in a range of modalities to those with strong religious values.
This organization connects religious individuals to Christian mental health resources including counselors and therapists.
The International Association of Christian Counseling Professionals
The IACCP is a community of Christian counselors, social workers, psychologists and behavioral health professionals who offer supportive services for those experiencing mental health crises.
Christian Support Groups
Sometimes we are able to find the most support in communities of like-minded people, gaining strength from one anothers' stories. Fortunately, there are many support groups that aim specifically to provide Christian mental health resources in settings that are respectful to faith-based traditions and beliefs.
This is an addiction-focused network of support groups founded by the Saddleback Church of Lake Forest, CA. The organization now operates at the national level, with chapters across the U.S.
This organization provides peer support to Christian individuals suffering from mental health challenges as well as their spouses and loved ones who are affected by these issues.
This organization facilitates Christian support groups for those who are processing grief. They offer both in-person and online groups.
This organization facilitates numerous Christian support groups for those experiencing mental health needs. Their offerings include individual, marriage, and family-focused support groups.
Virtual OCD Support Group for Christians
This is a network for people living with OCD who would like to connect with other Christians who will relate to their experience. It is verified by the International OCD Organization.
Advocacy and Mental Health Awareness
As general discourse around mental health has expanded greatly in recent years, many within the Christian community have put a spotlight on the need for mental health support for pastors. Many of these Christian mental health organizations provide educational materials about the mental health crisis at large and how pastors' unique needs should fit into their treatment. This has given rise to mental health advocacy organizations and other groups that specialize in the topic of mental health among pastors, including the following:
Mental Health: A Guide for Faith Leaders by The American Psychiatric Association
This reader from the American Psychiatric Association provides extensive information on mental health issues to help faith leaders provide compassionate aid to their congregants in need.
This nonprofit provides numerous mental health resources and educational materials to help Christians understand how to seek treatment and support. Their website features a section specifically devoted to the state of mental health among pastors.
This faith-based organization provides mental health resources for pastors as well as materials to help Christian leaders support others in crisis.
Faithnet is an initiative of the National Alliance on Mental Illness. It is an interfaith organization that helps those in faith communities provide welcoming spaces for those with mental illness.
This is a nonprofit providing resources specifically for pastors to address professional and personal challenges. PastorServe works at the national level, with hubs in regions across the United States.
An organization that provides mental health resources for Christian leaders. Their website includes tools including self-assessments and educational materials on a range of mental health topics.
Bringing Mental Health Awareness to Your Congregation
Beyond finding support for your own mental health needs as a pastor, you can draw from the organizations above to provide Christian mental health resources to all in your congregation. By facilitating an open conversation about mental health challenges, you will be helping to fight stigma and encourage more people within your community to find the support they need. In this way, you can strengthen your congregation while working to improve the mental health crisis around the world.
Another important factor for pastors to consider as they approach mental health within their communities is the issue of inclusivity. It is vitally important for any Christian community to make all members feel welcomed, at home, and appreciated. For more resources to make your church or parish the most inclusive place it can be, take a look at our Diversity, Equity, and Inclusion Resource Guide here.
If you are just at the beginning stages of pursuing a career as a pastor or Christian minister, your first step will be pursuing a Divinity degree. See our Guide to Christian College Degrees here.
For information about Christian careers, degree programs, and how to become a pastor in your state, visit our homepage.