<!- mfunc search_box_body_empty -><!- /mfunc search_box_body_empty ->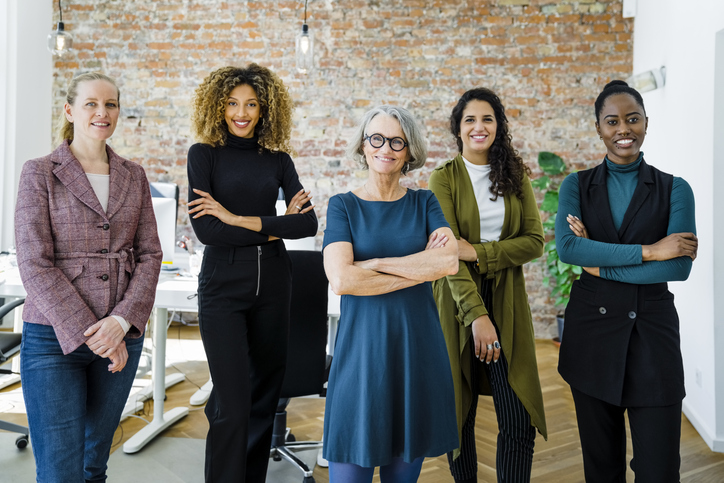 Just as women are often considered the heart of a home, they're also considered the backbone of a church. Their contributions—their unique talents and gifts—are vital to the mission and success of a church. Yet, often times, their spiritual health is overlooked. While ministry groups within a church provide women with outstanding opportunities to get involved and give back while growing in their Christlikeness, they can't replace the impact and influence a women's ministry can have on this unique church population.
What is Women's Ministry?
So, then, what exactly is women's ministry? A women's ministry is a community of women who gather to fellowship, mentor, and connect in a safe, supportive environment. Women's ministries are where women engage with God while uplifting and encouraging one another in their faith.
<!- mfunc feat_school ->
Explore a Christian Ministry Degree – Request More Info Today!
Women's ministries provide women with an opportunity to study God's word, serve others, and give and receive biblically sound support. Simply put, a women's ministry is women connecting with women and encouraging their walk with Christ.
Examining Women's Ministry and Its Importance Within the Church
No one will argue that a woman's life experiences are dramatically different from a man's. Yet many churches fail to appreciate these differences and provide women with a constructive outlet for helping them along their personal journey as disciples of Jesus Christ. Despite making up more than half of most congregations, this demographic often goes unnoticed.
Women's ministries address women's unique needs and equip them for service, which ultimately bears fruit for the church as a whole! In short, when churches take care to support the women of their congregation, everyone benefits.
The value of a women's ministry is multifaceted…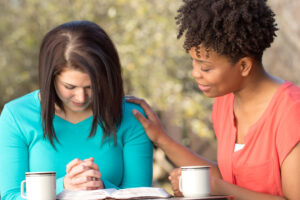 3 REASONS WHY
Women's Ministry is Essential in the Church
1. Uplifts women
2. Provides them with safe places to receive biblically sound support
3. Helps women walk by faith
Women's ministries provide women with an opportunity to safely share their life experiences with other women.
Women often keep their struggles and problems to themselves out of fear or embarrassment. Women's ministries provide them with a safe space in which to share their thoughts and feelings with other women in a safe, Christian environment, thereby eliminating feelings of isolation and loneliness and creating a sense of community.
They're where women learn about the struggles and challenges of other godly women and appreciate that their life experiences aren't unique, that other women share in their feelings and experiences. Women's ministries also present unique opportunities for mentorship, where women who share similar experiences can guide one another throughout their personal journeys.
Women's ministries guide women to live consistently with their faith.
Women's ministries provide women with opportunities to lift one another up, pray together, and grow in godliness as they engage with God through His Word. Women's ministries help women come to Christ and grow in Christ by understanding the gospel, responding to the gospel, and applying in their lives.
Women's ministries provide women with opportunities to develop deep, lasting relationships.
Women's ministries run much deeper than Sunday brunches and afternoon teas. Women need godly fellowship, regardless of their age or stage in life. Women's ministries breed a sense of belonging, where valuable, beneficial theological and life conversations are born!
What Does a Career in Women's Ministry Look Like? Women's Ministry Job Titles, Job Duties, and More
A career in women's ministry is not a one-size-fits-all career, but your mission will always be the same – to uplift women, provide them with safe places to receive biblically sound support, and help them walk by faith.
Your job duties may include one or more of the following:
Your work may focus on a general women's ministry or on specialized women's ministries aimed at:
Jobs in women's ministries are found in churches, of course, as well as in:
With a background in women's ministries, you'll be able to confidently assume positions like:
Women's Ministry Director - Church
Anna works in a growing church in the Cincinnati metro area. Her job as ministry director  is an important one, as she is tasked with leading and equipping the women's ministry team and coordinating with the staff team and other ministries of the church. Her bachelor's degree in women's ministry ensures she has the leadership and administrative skills necessary to lead a thriving church ministry.
Her daily job duties include:
Managing the women's ministry calendar and coordinating it with the church calendar
Recruiting women's ministry team members
Managing the women's ministry budget
Creating and overseeing outreach efforts
Planning and overseeing the programs within the women's ministry, which include:

Women's Bible study
Women's socials
Women's retreats
Postpartum care team and new mom play groups
Infertility and adoption prayer & support
Women's Aftercare Manager – Faith-Based Residential Nonprofit
Nicole's position as a women's aftercare manager of a mission-driven, faith-based nonprofit in the Greater Pittsburgh area is wide-ranging, covering nearly all aspects of the program, which provides women with a structured, residential environment through which they can begin to break the cycle of addiction and/or incarceration and be transformed through Jesus Christ.
Her responsibilities within the program include overseeing residential intake, casework, and supervision. Because of this, her degree and related background in women's ministry ensure she is equipped to handle all tasks related to ministry, management, and casework. She must maintain the standards of the program while also ensuring that she and her team set appropriate boundaries with residents and always further the nonprofit's mission by being ambassadors of change.
Program Coordinator of Women's Ministry – Interdenominational Christian ministry
Evelyn is a program coordinator of a Florida-based women's prison ministry program within an interdenominational Christian ministry. Her job includes overseeing a large team of volunteers and organizing and overseeing programs aimed at both the female prison population and the female relatives of incarcerated individuals, with the ultimate goal of building a Christian community both within and outside of the prison's walls. Her overreaching objective is to mentor young women and encourage them to begin to make better life choices.
Her MDiv in women's ministry ensures she has the knowledge and skills to implement and oversee the women's ministry prison program consistent with its mission and purpose.
Women's Ministry Missionary Leader – International Christian Missionary Organization
Maria's job as a women's ministry missionary includes overseeing the women's ministry efforts of an international Christian missionary organization. Working with the organization's 400+ partner churches, she recruits and organizes teams of women missionaries to provide programs to women of many cultures. Missionary efforts for women are aimed at everything from pregnancy clinics to anti-sex-trafficking ministries to addiction programs to Bible studies.
Maria's background in women's ministries, alongside her bachelor's degree in religious studies and her MA in women's ministries, allows her to develop and implement programs for women who are lost, abused, or marginalized, with the ultimate goal of ensuring that women know God's love and can become contributing members of His church.
How to Become a Women's Ministry Professional – Degree Options to Consider
Learning how to become a women's ministry professional may look different from one person to the next. This is because there's no singular, clear-cut path to a career in women's ministry. Instead, if you have aspirations of pursuing a career in this field, you'll have a number of options available to you.
For most aspiring women's ministry professionals, a career in this field begins with a bachelor's in women's ministry or a similar degree. You'll be well-served by earning your bachelor's degree, as most churches require those in leadership or management positions in women's ministry to hold a bachelor's degree or higher. Women's ministry bachelor's degrees are offered primarily through seminaries and private colleges and universities and are often structured as:
While each program comes with its own unique features and structure, you'll find that a Christian bachelor's degree in women's ministry or with a women's ministry concentration will equip you with the theological foundation and the practical skills to serve in women's ministry in any number of settings. With a bachelor's degree in women's ministry, you'll be able to:
A four-year course of study in women's ministry prepares students to assume leadership positions in women's ministry by providing them with a strong, comprehensive curriculum that includes foundational courses in Bible/theology, a liberal arts core, and focused courses specific to women's ministry, such as:
Survey of Women's Ministry – This course introduces students to women's ministries in different contexts and in locations around the world, from small churches to global, missions-based organizations. Women's ministry skills in mentoring, teaching, and leading in small groups are explored in this course.
Leadership in Women's Ministry – This course prepares students to take on leadership roles in women's ministry by introducing them to strategies for creating and implementing programs and recruiting and equipping others for ministry.
Significance of Women in Christian Culture – This course provides students with an historical and biblical overview of the role of women in Christianity and the church to allow them to better appreciate the importance of women in Christian culture.
You'll also likely complete a ministry internship as part of your degree plan, thereby allowing you to transfer what you've learned in the classroom to a real-life experience. During your practicum or internship, you'll work closely with a qualified mentor to develop your professional skills and grow in your ability to lead a women's ministry.
Students of these programs also often choose to complete additional practical experiences by volunteering in a local church ministry, by participating in service learning opportunities through community-based nonprofits, and by completing domestic or international mission and study abroad trips. Lead a women's Bible study group in your church… volunteer your time in an international charitable organization like the Salvation Army… or spearhead a fundraising event for a local Christian-based women's shelter. There is no shortage of opportunities to begin building your resume as you complete your undergraduate degree.
Outside of formal education and training, successful women's ministry professionals possess a set of key attributes that allow them to thrive in this field:
A devotion to daily prayer and Bible reading as a woman of prayer
A commitment to maintaining positive and fruitful relationships with others
A dedication to leading the ministry in a joyful manner
A passion for helping other women and encouraging them to grow in their relationship with Jesus Christ
A strong work ethic that includes being highly motivated and self-disciplined
A commitment to spiritual and emotional self-improvement
A willingness to support the overall mission, vision, and direction of the ministry
Onward and Upward… Advancing Your Education to the Graduate Level
As a graduate of a bachelor's degree in women's ministries, you'll also have the foundation necessary to confidently pursue graduates studies in areas like biblical counseling, women's ministries, spiritual leadership, and more.
Most programs are designed as either a Master of Divinity (MDiv) or a Master of Arts (MA). The MDiv, which is largely required by most churches for ordained ministry positions, is a rigorous course of study that usually includes about 72 credit hours. The MA, however, consists of about 48 credit hours and is usually the chosen alternative to individuals who want to earn their graduate degree but have no plans to become ordained or pursue doctoral-level study.
Graduate degrees in women's ministries are often designed as:
Both the MDiv and MA are often offered through partially or fully online formats as to accommodate busy, working adults. While not generally required for women's ministry jobs, they often serve as an ideal path to a career in women's ministry among individuals with a different undergraduate degree. They also complement an individual's undergraduate degree in general ministry or religious studies with women's ministry-specific knowledge and skills.
In many larger organizations, a master's degree in women's ministry may provide you with the competitive edge for assuming upper-level positions.
Women's Ministries We Think You'll Love
The Department of Women's Ministries at the General Conference of Seventh-day Adventists
The Department of Women's Ministries at the General Conference of Seventh-day Adventists is a national effort to address the spiritual, emotional, physical, and social needs of women in the church and encourage women to participate in the mission of the church.
The Department of Women's Ministries addresses six challenge issues that they feel are of particular significance to women around the world: Illiteracy, Abuse, Poverty, Health Risks, Work Loads, and a Lack of Mentoring and Leadership Training.
Just some of the programs developed and sponsored by Women's Ministries include:
Abuse recovery
Adventist Women's mission projects

Church hospitality

Leadership certification training
Literacy programs
Mental health training
Mentorship of younger girls and women
Prayer groups and prayer chains
Retreats and rallies
Small group ministries and Bible studies
The International Women's Day of Prayer
As of April 2020, Women's Ministries organized and led:
45,046 retreats
629,244 seminars
143,898 Evangelistic meetings conducted by women
The Seventh-day Adventist church supports the enditnow® global initiative to raise awareness and advocate for the end of violence around the world. This worldwide church initiative was launched in 2009 as a partnership between the Department of Women's Ministries and the Adventist Development and Relief Agency (ADRA). The North American Division's enditnow® campaign encourages churches to launch their own enditnow® campaign.
Prison Fellowship Women's Ministry
The Virginia-based Prison Fellowship's ministry to women serves incarcerated women and their specific needs and works to restore and renew their faith and stop the destructive cycle of recidivism.
One of the unique programs offered through the Prison Fellowship women's ministry is the restorative art program, where incarcerated women can develop a sense of community, restoration, peace, purpose, and identity. This program, which is rooted in Scripture, empowers women to acknowledge their emotions through the lens of artistic expression. Restorative art workshops are currently operating in seven states, and more than 500 incarcerated women have participated in these programs.
This ministry is also home to Hope Events, which feature speakers, musicians, and other inspirational guests who bring their talents to incarcerated women. Through Prison Fellowship's Hope Events, more than 4,000 prisoners made first-time decisions or rededications to follow Christ last year.
Salvation Army's USA National Women's Ministries
Serving women since 1907, the Salvation Army's USA National Women's Ministries is part of one of the largest Christian organizations in the world. As of 2017, membership totaled more than 750,000. Like the Salvation Army, USA National Women's Ministries efforts are based on the Bible and motivated by the love of God and its mission is to preach the gospel of Jesus Christ.
Addressing the needs of women of all ages, USA National Women's Ministries provides programs aimed at worship, education, fellowship, and service, along with materials related to evangelism and discipleship of women.
Take Your Women's Ministry to the Next Level: Earn Your MDiv
Grow your faith, strengthen your leadership skills, and make an even bigger difference for the women in your community.