<!- mfunc search_box_body_empty -><!- /mfunc search_box_body_empty ->
Greek and Hebrew are considered to be the languages of the Bible, since they were primarily the languages used in creating the original versions of the New and Old Testaments. Studies in Biblical languages are intended to equip Christian scholars for more accurate understanding of those original books as well as allowing for original analysis of translations of the Bible and Apocrypha.
To truly understand the Word of God, you must be able to understand it in the original language in which it was written. Most Christians rely on translations, but translation is always imperfect. And only through further study and research can those translations, and our understanding, be improved.
This is why Biblical language study is incorporated in many kinds of Christian degrees already. It's hard to find any advanced degree that prepares people for ministry without some studies of Scripture in their original languages. In fact, Greek and Hebrew exegesis are key parts of studies in pastoral ministry and divinity.
But there are also specialists who devote their studies entirely to Biblical languages, for research and translations. If that's your calling, a degree in Biblical languages is the best path to serve it.
Degrees in Biblical Languages Deliver Specialized Training in a Specific Area of Expertise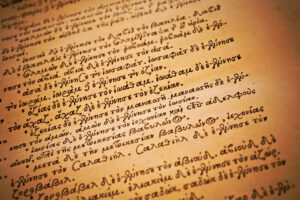 It's not every day that you run into someone with a degree in Biblical languages. They may be some of the most unusual Christian degrees. But they are also some of the most important.
That's because most of the rest of the Christian faith rests on the work those scholars perform. As a student of Biblical languages, you are among the select few who interpret, translate, and make sense of some of the original text of Scripture for other speakers of modern languages.
Why Can't I Just Learn Greek or Hebrew?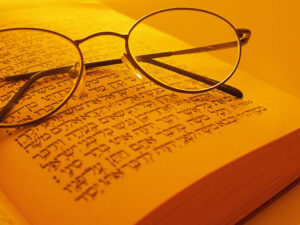 If you're interested in reading and analyzing Scripture in the original languages it was recorded in, you might be wondering why not just get a degree in Greek or Hebrew?
Languages change, though, and in 2000 years, they can change quite a lot. Set a modern day Greek speaker down in front of the Oxyrhynchus Gospels, 2nd Century fragments of the New Testament written in uncial Greek, and you would mostly see a lot of head-scratching rather than translation. Modern Hebrew script, by most accounts, is closer to ancient Hebrew, but it remains akin to reading Canterbury Tales in the original Middle English as a modern English speaker.
So Biblical languages studies demand that you learn languages that aren't exactly dead, but that are certainly not in contemporary use. And since context is so important in translation, you will also study many other aspects of Biblical times that standard language degrees don't offer.
Although most Biblical languages students in the United States are native English speakers, translating the Bible into other languages is equally important. Missionaries need Biblical language skills in order to bring the Word to new populations; even in the United States, translations need to be made for ELL (English Language Learner) populations.
So, whatever your own native speaking skills, a degree in Biblical languages is a powerful tool for evangelizing.
Degrees in Biblical Language Are More Advanced Than Most Christian Studies
You can find stand-alone degrees in Biblical languages at the bachelor's, master's, and doctoral levels. The complexity of the subject matter means there are no associate-level degrees in the field.
But you will also find that many other kinds of Christian degrees, from those in Pastoral Studies to the Master of Divinity, are often offered with available concentrations in Biblical languages or Biblical literature. These allow students with a calling to various other kinds of ministries to also develop language skills to deepen their understanding and appreciation of Scripture.
Bachelor's Degrees in Biblical Languages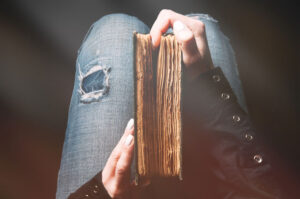 A bachelor's degree is the essential degree for getting started in Biblical language study as well as putting yourself on a path to a career in your calling. There's a reason that employers both secular and of faith require bachelor's degrees for many jobs, and it goes far beyond language skills.
You will definitely get language skills here, studying elementary and intermediate written Biblical languages, but you will also have many general liberal arts courses, such as:
Bachelor's degree coursework gives you the essential critical thinking and general knowledge skills not only to help further your education, but also to make you a thoughtful, contributing member of society.
You'll also find these degrees necessary if you intend to study at a higher level in Biblical languages. Most master's programs have certain minimum language skill standards for admission to ensure you won't be left behind. Undergraduate degrees in this field are the best place to develop those skills, allowing you to continue your studies at the graduate level.
Master's Degrees in Biblical Languages
Master's degree programs in Biblical languages can be surprisingly flexible. Although you will develop a real mastery of the languages, Biblical hermeneutics, and exegesis at this level, there is often plenty of room for elective courses to tailor your studies to your individual interests.
Over a two- or three-year course of study, you will dive in deeper than ever into the text, the historicity, and the meaning of Scripture by studying the original texts. At this level, you will probably be looking at different fragments and different versions of the Bible recorded over time, as well as perfecting your understanding of the nuance of the languages in which it was written.
You'll be making your own translations and coming up with your own ideas about Scriptural meaning in a master's program. Your thesis, a 100+ page scholarly paper outlining your unique perspective on some aspect of Biblical language studies, will require extensive research and writing. It's a strong foundation for moving on to doctoral studies in the Bible or to improve your understanding of Scripture to support a role in pastoral ministry.
Doctoral Degrees in Biblical Languages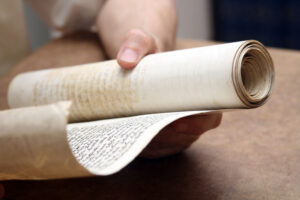 PhD programs in Biblical languages are primarily designed for scholars and future professors in the field. The advanced course of study will put you in the thick of modern research and debates in Biblical translation and interpretation.
Every doctorate offers a chance to develop unique expertise in the field. Your choice of a dissertation topic allows you to decide what you will be studying. As much as half of your three to five years of study will be devoted to research and honing your arguments. When you are finished, that advanced work will be a publication-quality piece of writing that will help showcase your work for future employers and the academic community.
You'll also come out with fluency in reading and comprehension of Biblical languages that is unmatched, as well as a comprehensive perspective on the historical literature of Scripture.
The Coursework in Biblical Language Degree Programs Revolves Around Linguistics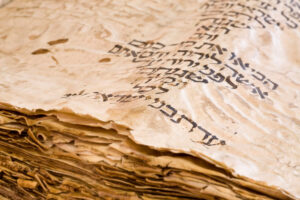 Learning another language is always tough, and learning an ancient language that primarily exists only in written form today is even tougher. So, it makes perfect sense that most of the course of study in any Biblical languages degree will revolve around learning the languages themselves.
But you're not studying just to become an expert in archaic linguistics. There's a point to these degrees, and it all comes down to comprehension. So you'll typically have a range of other related coursework no matter what your level of study.
Greek and Hebrew - As the main languages that the original fragments of Biblical texts were recorded in, these will be the main languages that you will have to learn as a scholar in the subject. Vocabulary, morphology, and syntax will teach you how to read and comprehend prose and then poetry in each of these beautiful languages.
Latin or Aramaic - Although Koine Greek and ancient Hebrew are the primary languages that the prophets recorded their testimonies in, they aren't the only languages used for early Scripture. A knowledge of Aramaic can be valuable in studying some sources of both Old and New Testament books, while Latin became the language of many of the other documents of the early church and theological writings that you may find helpful.
Hermeneutics - You're not just learning the languages of Scripture for their own sake, of course: you are learning them with an eye toward reading and understanding His Words in a form that is closer to the original inspiration than English translations allow. So you will find plenty of classes that put your language skills to good use in reading and analyzing Scripture.
Literary Biblical History - Biblical languages courses also usually have some coursework in understanding the history of how the modern Bible came to be from all the fragments and versions of original Scripture that are out there. The Word may be inspired and inerrant, but it also came from many different sources which do not always agree, and sometimes in substantive ways. Part of learning to read the original Scripture includes understanding how scholars over time have come to identify what is authentic and what is apocryphal through classes in the literary history of the Good Book.
There is plenty of room for elective coursework in most degree programs in Biblical languages. If you are taking Biblical languages as a concentration in a related graduate program, such as a Master of Divinity, then you will already have plenty of contextual classes to apply these studies toward.
Choosing a School for Biblical Language Studies
It's not just Christian schools that offer courses in Biblical languages. Many secular universities have strong theology programs, investigating Christianity and other major religions from a systematic, technical perspective. They have an equal interest in studying and interpreting original Scriptural texts.
You can get a fine course of training in Biblical languages at secular schools, but you do need to be aware they won't include the spiritual development of a Christian school. You may lose nuance and meaning if you pursue Biblical languages at a non-Christian university.
No matter what school you pick, you will want to know that it has been fully accredited by an agency recognized by the Council for Higher Education Accreditation (CHEA) or the Department of Education. Those agencies look at the basics of curriculum, administration, and policy to ensure you get a full value for your education.
For many Christian schools, the most common accreditors are Association of Theological Schools (ATS) or the Association for Biblical Higher Education (ABHE).
Remote Biblical Studies Degrees Online Offer Flexibility and Affordability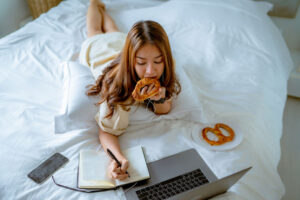 Many Biblical languages programs are available entirely or partly online these days. Language learning is a skill that is particularly suited to remote studies—you can receive your reading assignments online, demonstrate comprehension through online quizzes, even practice speaking through video links.
Online programs open up your field of options. Without relocating, you have your pick of all kinds of different colleges, so you can find the one that best matches your own needs and interests even if it's five states away.
Online degrees also offer unparalleled flexibility to fit into your personal life. Particularly when you get to advanced levels, you may have work or family commitments you need to keep. Those can make traditional on campus studies tough to schedule. But asynchronous online courses keep you flexible by letting you complete your coursework at any time, from any location.
The Unique Jobs You Will Find With a Degree in Biblical Languages
Many people already know exactly what they are going to be doing with a degree in Biblical languages well before they even enroll. Learning ancient languages in this depth and detail requires dedication, and that means having a plan before you get started.
Among all kinds of Christian careers, the path for those called to study Biblical languages may be the most straightforward. Undergraduate studies prepare you almost entirely for advanced degrees; advanced degrees lead to academic roles, or reinforce skills for the ministry.
In general, people who pursue this path in Christian degrees fall into one of two categories:
Future scholars study Biblical languages to make contributions in the field of Biblical knowledge and understanding. For these individuals, a degree in Biblical languages is just the start of a long career of immersion in the deep well of Scriptural study and interpretation. They will find careers as researchers, educators, and authors or lecturers. New translations of the Bible will draw on resources they create, and new interpretations will come from their investigations and interpretations.
Pastors study Biblical languages to improve their own knowledge of the Word of God directly. Many ordained ministers pursue advanced studies in Biblical languages, either as a separate degree or a concentration in their divinity or pastoral studies program. They do so from a desire to come closer to a direct, individual understanding of Scripture which can only come through language comprehension.
While most divinity degrees require some level of Hebrew or Greek exegesis, many pastors come away from those programs feeling like there's more to learn. And the fact is, there is considerably more to learn, and a degree in Biblical languages is the place to learn it.
Whether your calling is to the ministry or to scholarship, these are degrees to give you tools to pursue a deeper understanding of Scripture and of God.